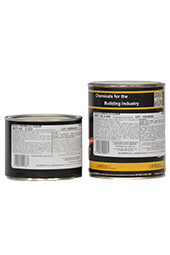 DESCRIPTION
EPOXY-RESIN-21-T is a two component, thixotropic epoxy paste with outstanding bonding capabilities.
PRODUCT BENEFITS
100% solids therefore after hardening no shrinkage occurs.

Excellent resistance to alkaline and acidic environment as well as very good resistance to oil and solvent.

Very successful not only in construction but also in marine and industrial applications
AREA OF APPLICATION
Bonding of cement mortar.
Bonding of metal structures.
Bonding of old and new concrete.
Filling, sealing of cavities and cracks in pillars, foundations, beams and walls.
Marine and Industrial Applications: Fills irregularities in water tanks, fuel reservoirs, refrigeration units. Bonds various metals, fiberglass etc.